RégimA
PRODUCTS THAT CHANGE LIVES

RégimA is a unique, advanced, medically accepted, results driven, anti-ageing, skin rejuvenating range manufactured exclusively for the use of doctors and skin care professionals.
Multiple award winning, RégimA's status is cemented as a skin care leader in the world market. Ensuring actives are used at maximum efficacy, RégimA is a cosmeceutical focusing not only on AESTHETICS but SKIN HEALTH.
Safely, gently and naturally, RégimA helps all skin types, skin problems, all Ethnicities, treating pigmentation, active acne, acne scarring, rejuvenating, restoring a youthful appearance, improving colour, tone and texture, smoothing away ageing lines and uneven skin colour, bringing back that glow of a good, healthy skin, irrespective of age.
Dermazest
100 - 300ml
R380 - R770
The Zone Cleanser is an ultra-refined formulation, designed to impart a gentle cleansing action, without harsh astringents. It possesses a secondary toning effect that leaves skin feeling tighter, firmer, yet softened without drying out. A host of organic actives have been included to deliver a soothing, gentle cleansing, natural toning and repairing action.
Daily Intellegent Sebum Solver
50ml
R550
Carefully extracted actives from a variety of plants, have multiple functions and work synergistically helping deal with oily and problematic skins. Triple acting anti-seborrheic action to remedy and control excess sebum (oil): Inhibits the enzyme responsible for the overproduction of sebum – contraction of dilated pores – limits bacterial proliferation helping prevent acne complications. Most advanced oil-soluble Vitamin C, perfect for oily skins as it easily penetrates, ensures perfect anti-inflammatory, anti-oxidant action. Provides all-important protection from harsh, ageing effects of the sun without shine.
Daily Radiant Boost
50ml
R550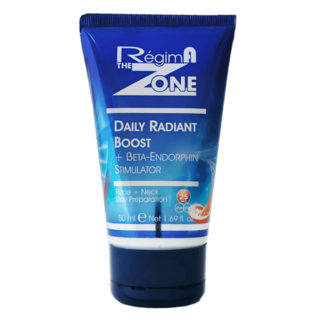 Multi-functional actives within this formulation help restore the hydrolipidic film of dry skin while reducing sebum flow of oily skin, maintaining the perfect equilibrium of moisturisation ensuring skin suppleness and the perfect solution for combination skin. Protects from the damaging, ageing effects of the sun.
Daily Ultra Defence
50ml
R550
A super-rich formulation which protects from the harsh drying, ageing effects of the sun. A carefully chosen complex combining selected and complimentary plants from the sea, rich in polysaccharides, sorbitol, amino acids, essential fatty acids, carotenoids, Vitamins A, B, C, E, minerals, provides significant hydration. Hyaluronic acid, one of the most important moisture-holding substances, adds significantly to this new technologically advanced formulation. Skin is deeply moisturized, with improved smoothing and a more youthful healthy glow.
Rejuvoderm Night Maintenance
50ml
R570
Nightly maintenance, with gradual natural exfoliation, is essential for skin health. Rejuvoderm offers a milder exfoliation option for the more sensitive or fragile skins.
Omega High Impact Night Complex
50ml
R570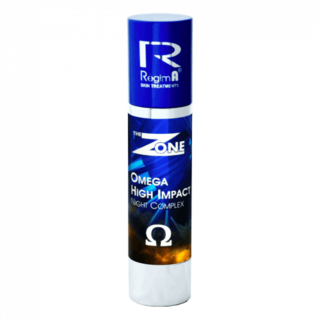 A technologically advanced product that has a high impact on the outer horny layer of skin that gives us wrinkles, pigmentation and a dull ageing look. By combining 3 natural fruit acids, Lactic, Malic, Citric, with reparative elastin stimulating peptides which promote healthy collagen synthesis, and blackcurrant seed oil rich in omega3 and 6, RégimA ensures powerful, essential anti-inflammatory action, which is part of just what makes this formulation unique.
Quick Enquiry
Complete and submit
Contact Us
Contact & Address information
Office information:
52 Mangold Road
Newton Park
6045
Port Elizabeth
South Africa
Tel: (041) 365-3059
Cell: 082 079 8072
Fax: (086) 547-0181
Working Hours:
Mon: 9am - 1pm
Tues - Fri: 9am - 6pm
Sat: 8am - 1pm
Religious Public Holidays: Closed
Email:
Using this site means you accept its
terms
| Copyright © 2021 The Pink Pebble Beauty Salon, Port Elizabeth, South Africa
| website by